Upper Key Stage 2
Year 6 Visit to St James' Church
On Monday 25th March, year 6 visited St James' Church to take part in some Easter activities, which were linked to the RE curriculum. The children learnt about the Easter story and throughout the morning worked in teams to investigate this. The ladies of St James' Church made Garlinge very welcome; they kindly arranged for the children to design Easter biscuits as a treat to take home. This was enjoyed by everyone!
A lovely morning was had by year 6, with plenty of thought-provoking discussion and teamwork demonstrated throughout our time inside the church. Thank you to Reverend Rae and his team of helpers at the church, who made us very welcome.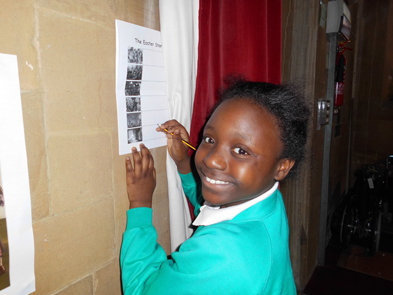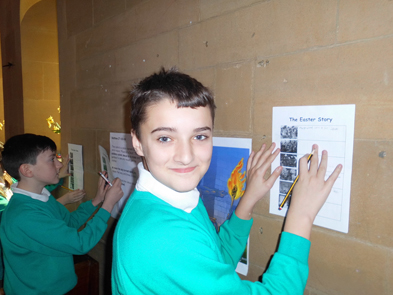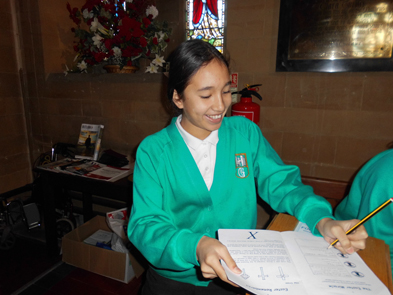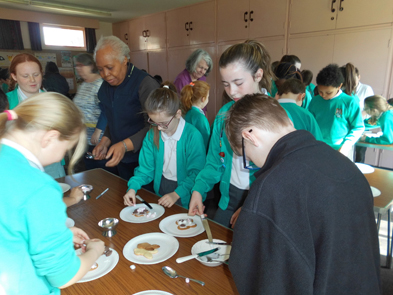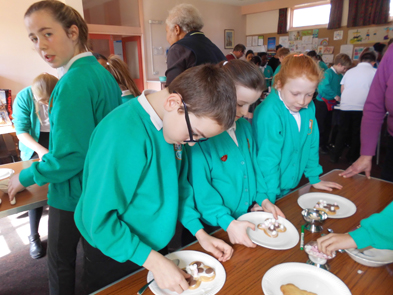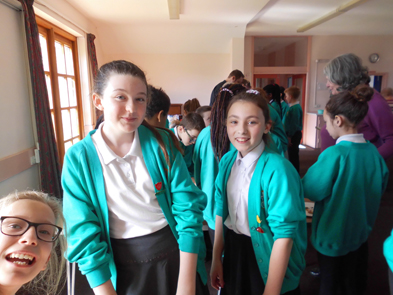 Year 6 Visit to Dreamland
Year 6 went on a school trip to Dreamland to take part in a series of activities designed to help them with their transition to secondary school, these workshops focused on: road and railway safety, First Aid, water safety, using the internet responsibly and also the importance of attendance.
It was a fantastic opportunity for the children to learn many about many things they will need to know about as they make their move to secondary school. As you can see, the children had a great time and learnt a great deal too!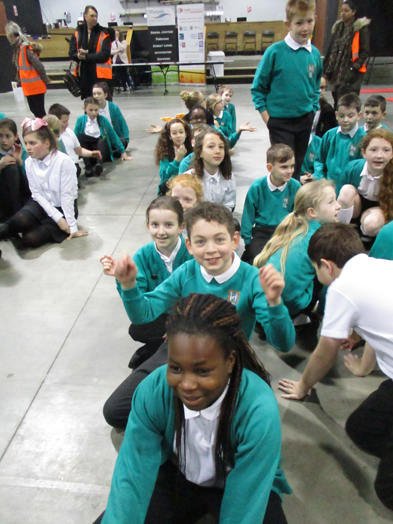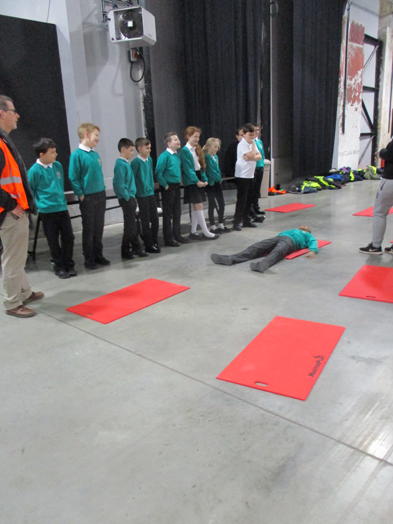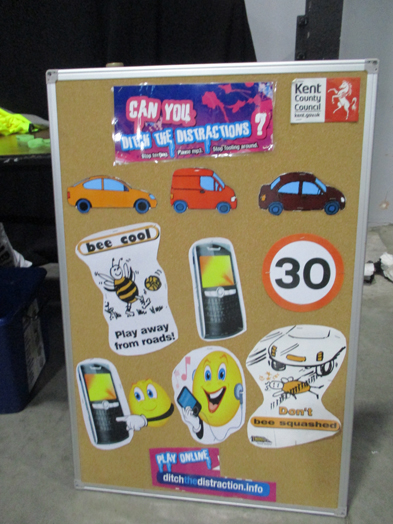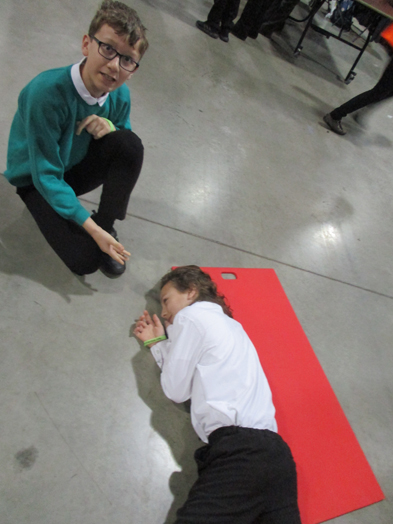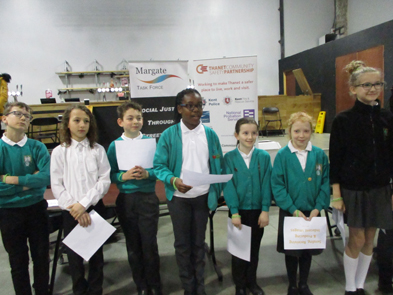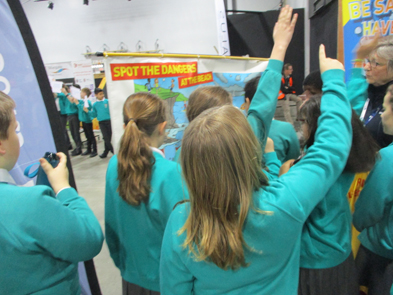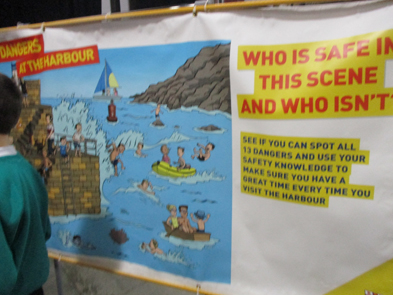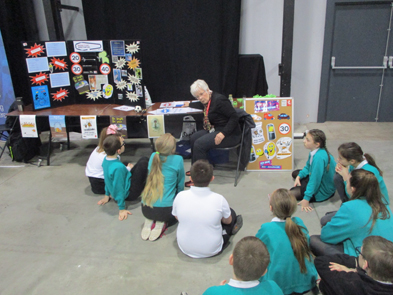 Year 5 Parent Workshop
At the end of January, year 5 welcomed their parent's into class for the afternoon to make clay statues. Both children and adult's thoroughly enjoyed making the Statue of Liberty and the creations were magnificent!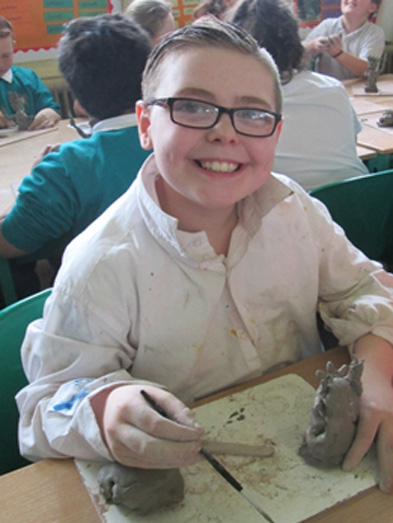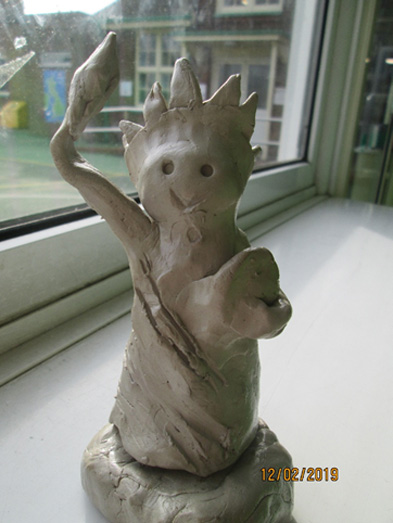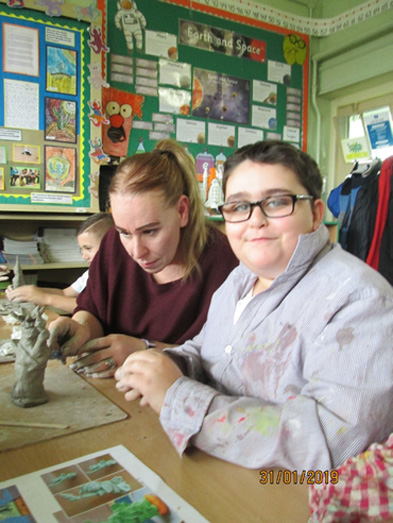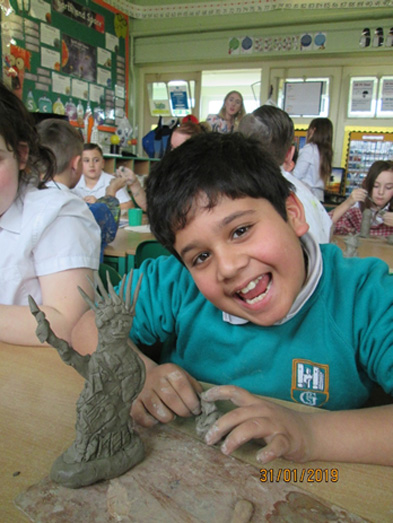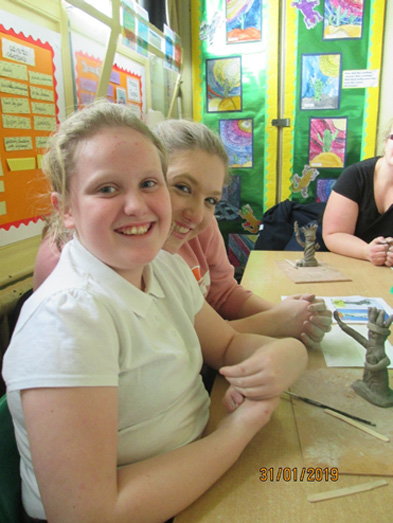 Fire Safety Talk
Year 5 and 6 were visited by a fireman and were given a Fire Safety Talk. The talk focused around the importance of smoke alarms, having a fire safety plan for their home and advice on what they should do if they were ever caught up in a house fire. The children were thoroughly engaged throughout the assembly and asked some very insightful questions at the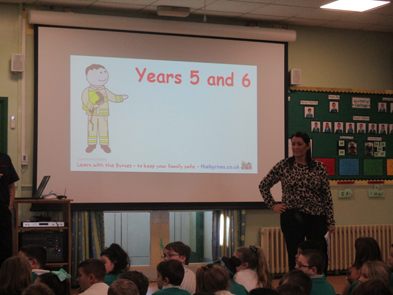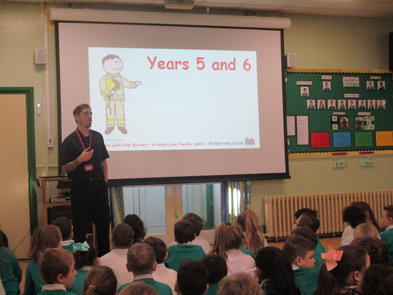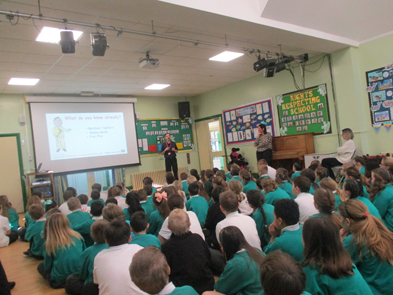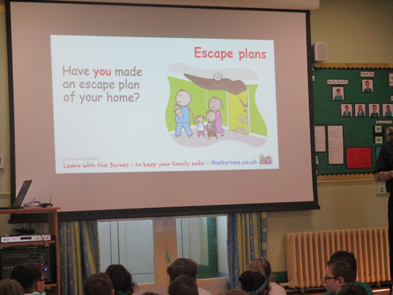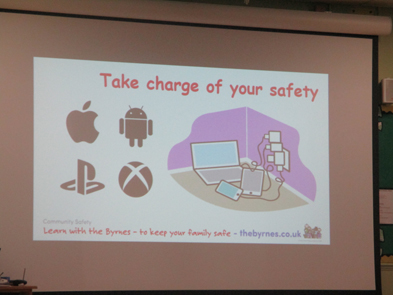 Year 5 American Animals Workshop
To kick start our USA topic, we enjoyed an American Animals workshop. We met a skunk, a snake, a coati, a desert tortoise, an armadillo and a tarantula, all of whom can be found in the USA. We also had the added bonus of meeting some playful meerkats. We used all the factual information we learned, to create some informative non-chronological reports.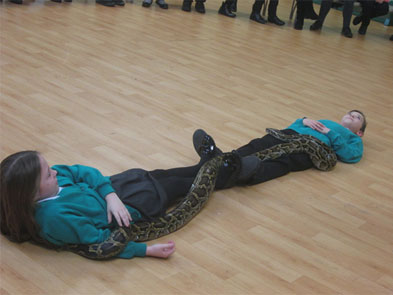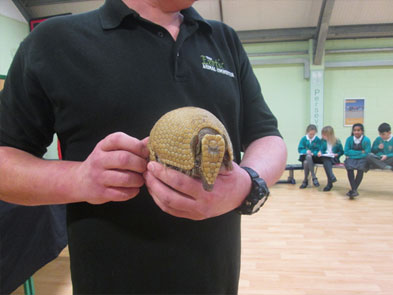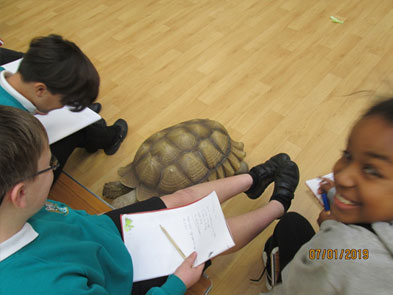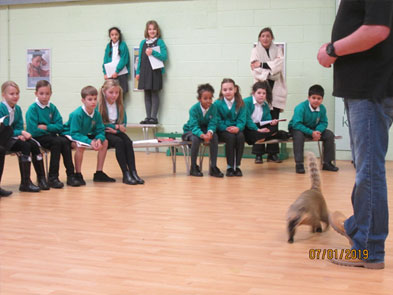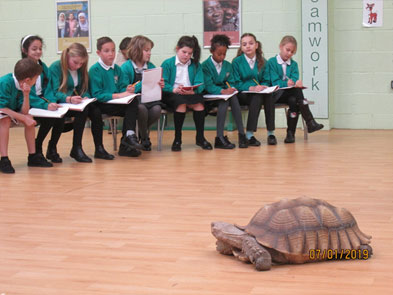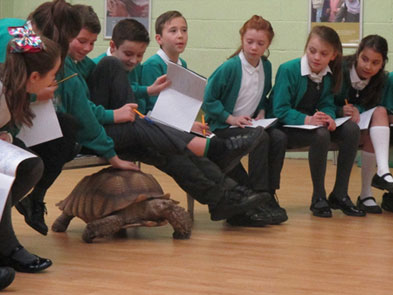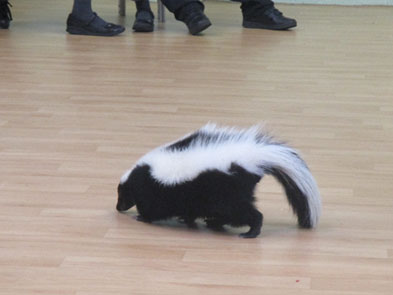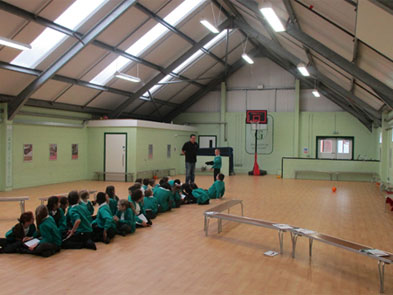 Year 6 Parent Afternoon - February 2019
Our year 6 children and parents/carers had a fantastic afternoon working as a team together, using their emotive imagery skills. This was linked to 'The Blue Planet Plastic pollution' project, which is a whole school focus this year. We watched a variety of 'Blue Planet' clips and discussed the problems that plastic pollution is sadly causing in our seas and oceans. From there, the children and adults worked in teams to create a design that was presented onto our 'plastic pollution-themed bunting'. Each piece of bunting displayed a different thought, image or message, linked to the plastic pollution that is happening on our planet today and the impact that it is having.
Year 6 Plastic Pollution
Year 6 have been researching the shocking facts about plastic pollution on our planet. We have discussed the damage that humans have done to both land and sea and how we can try to help prevent further damage. The pupils have created an emotive piece of artwork portraying the effects of plastic on our sea and ocean wildlife when reflecting on this subject. They used collage techniques when creating their designs.
Year 6 - Christmas Unwrapped - St James' Church Visit
On Monday the 10th of December, Year 6 attended 'Christmas Unwrapped' (an event held at St. James' Church), which included some 'Christmassy' activities.
The whole event was organised by Reverend Rae – the Vicar of St. James' church. We took part in some interesting quizzes, which contained some unexpected facts. Did you know that a donkey isn't actually mentioned as a part of the Christmas story! Because we were seated in two halves – half of Year 6 on each side of the pews – we took turns going to one of the two activities at a time. The more 'hands on' activity of the two, was decorating our own Christmas biscuits. Some kind ladies, who regularly go to St. James' church services, came and provided us with chocolate buttons, icing and marsh-mellows! The other activity was information about the story of Christmas. We found out the true meaning of Christmas, and uncovered the myths that have clouded over the nativity story over years and years. Overall, it was a marvellous experience and we are very thankful that Reverend Rae agreed to Year 6 visiting St. James' church.
Lenny and Ella – 6A
Year 5 Anglo Saxon Cookery
The children in Year 5 had the opportunity to make some Anglo Saxon honey oatcakes. They enjoyed making and eating them; they were quite delicious! Afterwards, they wrote a set of instructions on how to create them in English lessons.
Year 6 Celebrate Remembrance Day
As part of our Outdoor Learning Day, our year 6s used their creative and teamwork skills to create some amazing poppy art on our school playground. The children created some thoughtful and inspiring pieces that helped them reflect on the true meaning of Remembrance Day and why we wear poppies.
Year 5 Outdoor Learning Day
On outdoor learning day, our Year 5's took their Science learning outside. They investigated how size affects the effectiveness of a parachute and learnt about the forces that were in action.
Year 6 Secondary School Meeting Presentation
Please click on the link to view the powerpoint presentation shown in the meeting that took place on Wednesday 12th September informing parents of the Secondary School process.
5A Trip Science and Music Workshop
In terms 5 and 6, 5A had the delight of being invited to Hartsdown Academy to take part in Science and Music workshops. They thoroughly enjoyed the 'hands on' opportunity of becoming scientists for the afternoon. They used Bunsen burners when discovering about the effects of different gases and even had the opportunity to make elephant toothpaste! Meanwhile, in the music workshops, the children were enthusiastic when creating a rhythm sequence in a call and respond activity- using clapping.
Kent Police Open Day Maidstone
A few very lucky children were specially chosen by their teachers to attend an open day run by Kent Police in Maidstone on Friday 29th June. They were chosen for showing all the Garlinge values throughout the year and for having an excellent attitude to their learning. They got to try on official police uniform, search for illegal items in a car, watch a police dog training display and see how all the police weapons were used. The most exciting part for the teachers was watching them get locked in a riot van! The children were relieved when the policeman found the key again! It was a fantastic day with many activities and lots of information, what a treat!
Year 6 Residential Trip - Swattenden 2019
Click here to view our presentation from the meeting about the residential trip to Swattenden that took place on Wednesday 27th June.
Year 6 Science Jamboree Trip - Discovery Park Sandwich
Some of our year 6 children were chosen to take part in a practical science day at Discovery Park in Sandwich. They were lucky to be able to experience and join in with some 'whacky' science activities and experiments, including: let it snow experiment, the density of liquids tests, examining a hive of bees and the Queen bee's behaviour, the growth of tomatoes, farming in Kent, Ph. testing activity and a senses game. As well as the hands-on activities, the children watched an exciting science show, which was based on the theme of 'the air that we breathe'. The children represented the school impeccably and thoroughly enjoyed being scientists for the day.
Visit from the RNLI
Year 6 were visited by the RNLI to discuss safety whilst at the seaside. The children learnt about the different colour flags found on the beach, as well as the essential role that the RNLI fulfil in ensuring everyone's safety who uses the sea. The children found the safety talk fascinating and will hopefully use the advice they have been given over the summer months to keep themselves and others safe.
PESE Meeting
Click here to view our presentation from the Year 5 PESE Meeting on transferring to Secondary Schools.
Year 6 SATS Presentation
Click here to view our presentation on information and guidance about the changes and expectations for Key Stage 2 SATS.
Year 6 'Easter Cracked' Visit to St James' Church
Year 6 have been busy learning about the Christian festival of Easter and were lucky to visit St James' Church, taking part in the Easter Cracked workshops, led by Reverend Rae of St James' Church. The children took part in practical team activities, which included learning about: special symbols, caring for others, the Easter story and message, Christian Bible references, special areas of the church and decorating tasty Easter cookies. The children had an enjoyable morning and demonstrated our school values perfectly as a year 6 team!
Year 6 'Safety in Action' Event at Dreamland
On Tuesday 6th March, our year six pupils attended a 'Safety in Action' event at Dreamland. The aim of the morning was to familiarise the children with some of the dangers they may face as they become more independent and prepare for transition to secondary school. The children took part in ten workshop events in total, including: Road Safety, Emergency Life Support (First Aid), Online Safety, School Attendance and Personal Safety.
The children had a wonderful time and hopefully learnt a great deal that they can use as they as they move onto their new secondary schools.
The event was organised and lead by Project Salus and was supported by Thanet District Council and 'Margate Task Force'.
5C Class Concert
Class 5C had the absolute treat of listening to their friends perform a range of music on the instruments they are currently learning in school. All performers were very brave and inspirational when performing their music to the class. We had the pleasure of listening to euphoniums, a trumpet, a saxophone and clarinets. The children were kind and respectful when listening to their friends and showered them with applause! Well done children!
Year 5 Parent Viking Workshop
On Tuesday 6th February, Year 5 held a Viking parent workshop. The children invited their parents to come and help make Viking Longships using all of their DT and art skills. We made the boats look like wood and decorated the sails using strips of coloured paper. Some children even decided to create their own coat of arms to display on them. There were many creative efforts to ensure the boats were stable once their sails were attached! A fun afternoon was had by everyone.
World War Two Anderson Shelter DT Project - Year 6
The children in Year 6 have been busy designing, making and evaluating their own World War Two Anderson Shelters. They have worked very hard in teams and have persevered with the project designs, creating some fantastic end-results. Each group spent the day using different equipment to build their model shelter, making it secure and fit for purpose.
Mr Williams visited Year 6 throughout the day, whilst the children worked in teams to make their shelters. He then returned at the end of the day in order to judge the winning team from each class. Great Design and Technology fun was had by all of the children.
Year 5 Parent History Session
On Wednesday 31st January, Year 5 had the pleasure of inviting parents and carers into their classrooms to look at the wonderful topic work from Terms 1-3. The children proudly displayed their topic books and artwork and enthusiastically discussed the Anglo-Saxon and Viking topics that they have been studying.
Year 6 Parent History Session
On Wednesday 31st January Year 6 welcomed parents in to look at the fantastic learning that has been taking place in the first few terms of this year. The children were able to share all of their history learning, which ranged from writing, to photography and art. The children demonstrated their enthusiasm for the topics that have been covered and it was a lovely afternoon had by all. The children cannot wait to show their books off again!
Year 6 Dover Castle Trip
Year 6 were lucky enough to spend a lovely sunny, yet blustery day down at Dover Castle on 23rd November. They learnt about the tunnels and how they were used during the war, as well as visiting the castle. It was great for them to see their history learning come to life and it was thoroughly enjoyed by all.
Year 5 Mrs Shuttle
Year 5 students were very lucky to be provided with the opportunity to extend their understanding of maths, with Mrs Shuttle from Chatham and Clarendon Grammar School. A selected group covered a range of activities including; Problem solving with ratio, fractions, writing algebraic expressions and calculating probability. The children really enjoyed themselves and developed their levels of confidence in maths. They are all now young, aspiring mathematicians! We are all very grateful to Mrs Shuttle and look forward to welcoming her back in the future.
Year 5 TSC Dodgeball Session
TSC Sports coaches were with Year 5 practising their dodgeball skills and things got competitive! They were learning the skills of the game, including improving their aiming skills in order to win! Year 5 did very well, working on their Garlinge values of teamwork and perseverance and really impressed the coaches.
Year 5 Yo Street Zone Football Session
Year 5 had the exciting opportunity to take part in a Street Football session with 'Yo Street Zone' – a professional football skills coaching organisation. The skills they learnt were ball control, freestyle and panna football, along with trying to improve their confidence levels with the ball. It was a fun and creative session promoting our school values of teamwork and respect.
Year 5 Parent Workshop
On Tuesday 5th December, Year 5 held their Parent and Pupil workshop. It was a fun-filled afternoon with a cross-curricular theme of Design Technology and Mathematics. The children created some unique, hand sewn eye-catching Christmas card designs of Christmas trees and stars. It was a tricky task but the children and parents persevered and rose to the challenge!
Year 6 Visit to St James' Church - Christmas Unwrapped
On Monday 4th December, Year 6 spent a busy festive morning at St James' Church with Reverend Rae and his team. During the morning, they learnt about the historical side of Christmas, listened to carols, worked in teams to answer Christmas general knowledge questions and decorated Christmas cookies. It was an enjoyable morning - festive fun was had by all!
Year 6 NSPCC Workshops
Year 6 have recently taken part in several NSPCC workshops to raise their awareness about keeping safe, both inside and outside of school. Each class then took part in several activities and had lots of fun working together in small groups.
Years 5 and 6 Parent Information Session
On Thursday 21st September we invited parents and carers of Year 5 and 6 pupils to a 'meet the team afternoon'. This was an opportunity for parents to meet the children's class teachers and understand more about the curriculum, expectations and other aspects of school life at Garlinge. Click here for more information
Year 6 Bikeability
The children in Year 6 have been taking part in a series of cycling lessons during September, both on the school site and our local roads. They have developed their road safety awareness and have gained either a Level 1 or Level 2 certificate, which demonstrates their successful completion of the course. The Bikeability sessions have been thoroughly enjoyed by all.
Year 6 Parent Workshop
On Monday 19th January Year 6 invited their parents in to help them with some topic-themed art and DT work. Year 6 have been learning about World War 2 and the different types of air raid shelters people used to keep safe. We decided to make our own 3D shelters using a range of different materials and we have been very creative and included lots of details to make some very authentic and personal shelters.
Contact Details
01843 221877
Garlinge Primary School and Nursery
Westfield Road
Margate
Kent
CT9 5PA
Quick Links
Website by

© Garlinge Primary and Nursery School 2015-2019 - All Rights Reserved - Privacy Notice
Website Visitors