Eco News
ECO Representatives
At Garlinge we have Eco representatives from each class to help share the importance of looking after our environment.
All representatives are elected by their peers at the beginning of the school year and hold their post from September - July.
Members will often meet to discuss what our plan of action for the school is and to take part in environmental initiatives that are running throughout the country.
We are very happy to have extremely enthusiastic children who care about our World and its wildlife at our school and representing their classes.
What's Under Your Feet - November 2023
Please click here to see our latest 'What's Under Your Feet' report.
March 2023
Garlinge Eco Reps are taking part in the 'What's Under Your Feet?' campaign, led by the BTO (British Trust for Ornithology) and Chris Packham (from Springwatch!). The aim of this campaign is to provide data for the BTO to support their investigation into the affects of climate change on our birds. To do so we must undertake a dig and explore the invertebrates and other creepy crawlies in our soil and report back. Please click here to view our report.
February 2023
The Garlinge Eco Warriors carried out their annual Big School's Birdwatch this week and wanted to share our results!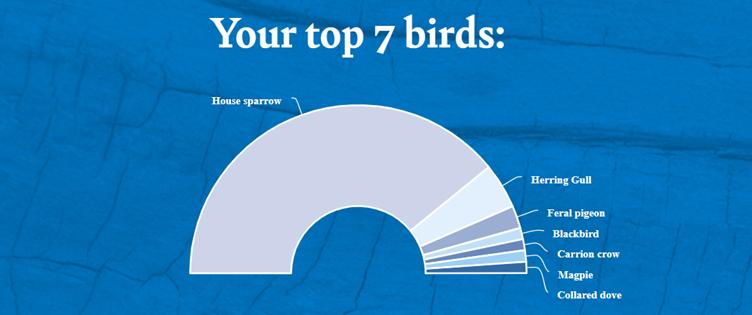 We decided to place ourselves outside of the staff room so we could get a good view of the nature area and the bushes that house our resident sparrows. As you can see, we were not disappointed!
Overall, we saw more birds than we did last year and believe this is down to the hard work of Ted who always ensures that the bird seed, feeders, and water is always topped up in the wildflower area. Therefore, we would like to say a big thank you to Ted for looking after our local wildlife!