RE
Religious education at Garlinge Primary School and Nursery seeks to make a major contribution to the spiritual, moral, social and cultural development of pupils by helping them gain a knowledge and understanding of major world religions, an appreciation that religions are a way of life and not an abstract system of ideas and the ability to develop their own religious beliefs.
At Garlinge we follow the RE Today model syllabus for Religious Education (RE). RE is taught through the medium of key questions for each year group/ key stage and various world religious are studied in order to discuss these questions including: Christianity; Judaism; Islam; Sikhism; Buddhism and Hinduism. This curriculum has variety, breadth and balance to education enquiring minds.
Pupils experience a wide variety of teaching and learning activities appropriate to the subject matter to be covered. Pupils will have the opportunity to access the RE curriculum through:
Engaging in classroom lessons
Reading texts
Researching their own information on tablets
Discussion
Pair and group work
Use of the media, i.e. videos, artefacts, pictures, music and drama
Visits and visitors
Outside learning experiences
Assemblies
Year 4 Easter Production 2023
The Year 4 Easter production 'Good News' was performed in school on Monday 27th March. The Year 4 pupils have been learning about the Easter story as part of their RE lessons and enjoyed having the opportunity to retell it in a fun and creative way. All the children worked so hard remembering their lines, choreography and song lyrics to perform the most superb show to Year 3 children and their parents and carers. The Year 4 teachers and staff were so proud of their determination and teamwork to retell the Easter story.
Year 3 RE On Demand Workshop - March 2023
Year 3 were fortunate enough to have a visit from Cathy, from RE On Demand – a workshop which offered the children opportunities to learn more about different religious festivals and their traditions. Cathy showed the children a variety of artifacts and resources linked to Judaism, Islam and Hindu Dharma.
Mrs Goode said that the children thoroughly enjoyed thinking about how their lives have similarities and differences to those of others. It was wonderful to see RE come to life in a new and exciting way for the children.
We want to thank Cathy for visiting Garlinge Primary School and helping the children to learn more about the beliefs and traditions of others. We hope to welcome her back in the future.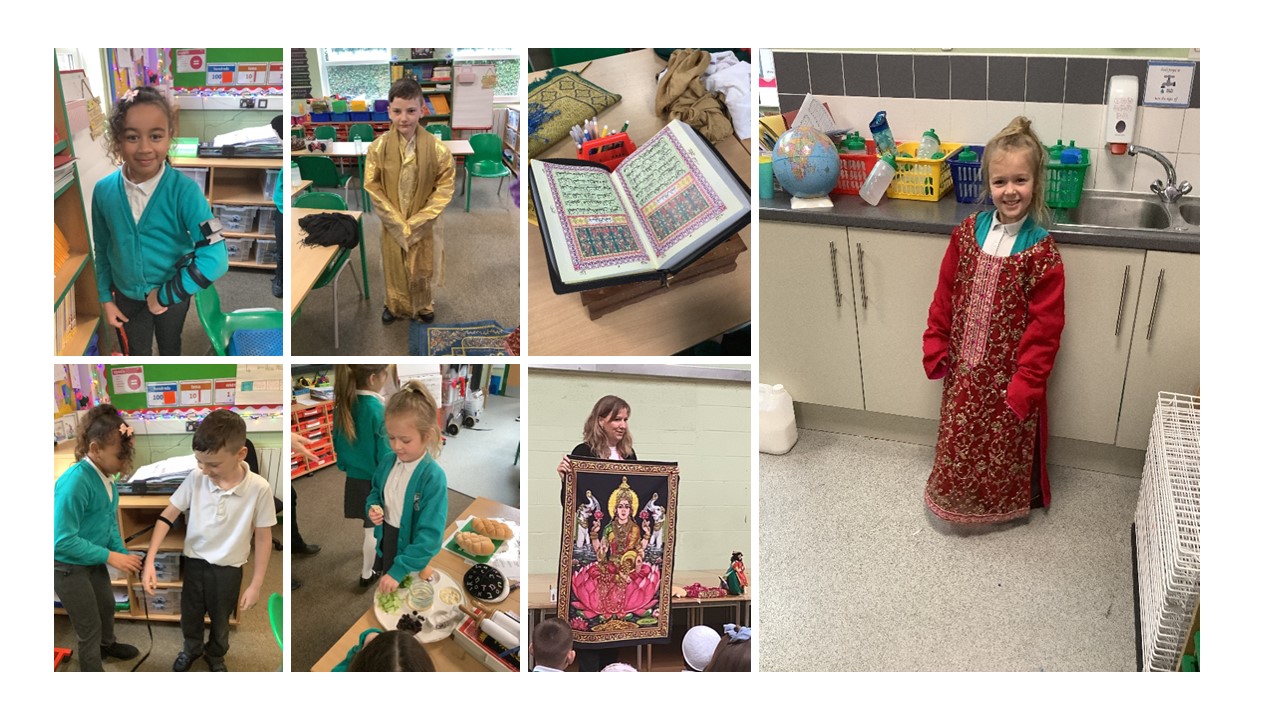 The Wire Award
Garlinge Primary School have been working hard over the last academic year to achieve 'The Wire' Award, which is an incentive created by Kent SACRE, with the hope of increasing enrichment opportunities for the pupils in schools across Kent.
To achieve this award, several year groups at Garlinge Primary School had educational visits or met with religious leaders within our local community to learn more about religions and worldviews. As well as this, we entered the 'Spirited Arts' competition, to show how religious education can be linked with art through thoughtful and purposeful creativity. Some of this artwork was shared on the school website last year: https://www.garlingeprimary.co.uk/re
To present The Wire award to Garlinge Primary School, Maggie Paddison-Chapman (a representative of Kent SACRE and of ACTS Thanet) visited the pupils during their celebration assembly on Friday. She mentioned how lovely it was to see the pupils' artwork on display around the school, and spoke about how she enjoys interacting with the children as they take part in activities which ACTS Thanet provides for them.
We want to say a huge congratulations to all the staff and pupils at Garlinge Primary school for their dedication and creativity towards RE. As well as this, we would like to pass on our thanks to Maggie, ACTS Thanet, and to Kent SACRE for their support in enriching the learning opportunities for the pupils at Garlinge Primary School.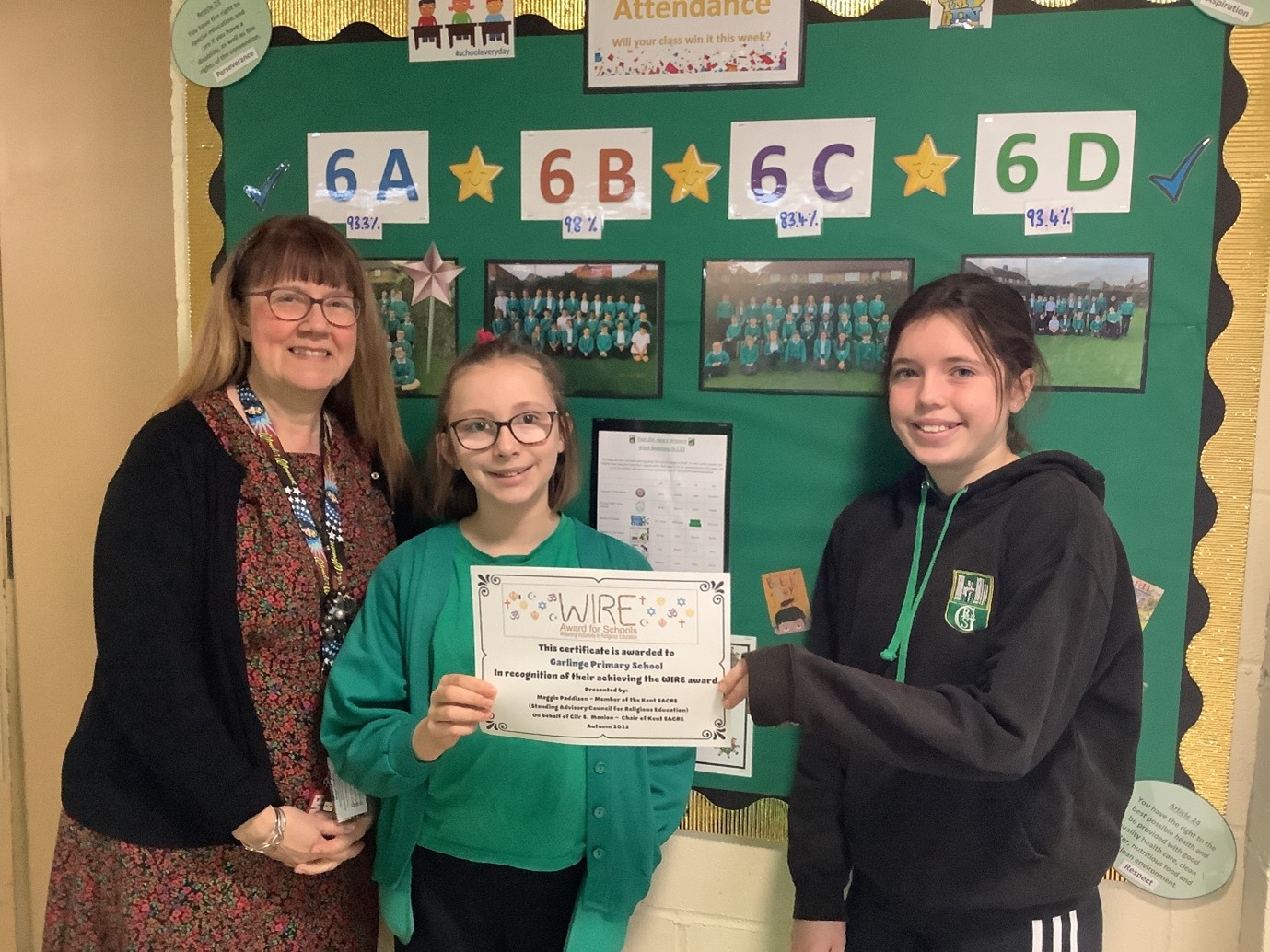 Year 6 - Christmas Unwrapped 2022
Year Six were given the opportunity to visit St James' Church and enjoy a time to reflect on the meaning of Christmas and learn a bit more about the Christmas story. They were quizzed on their knowledge, shared some of their hopes for Christmas and then looked at some of the biblical extracts related to the nativity.
After that, they were able to decorate a Christmas biscuit and then they enjoyed a visit from the Nutty Professor!
A huge thanks to the staff who gave up their time at St James' Church, and to Maggie and Rhodri from ACTS Thanet for all their hard work and enthusiasm.
And a well done to the pupils of year six, who represented the school brilliantly and showed their school values.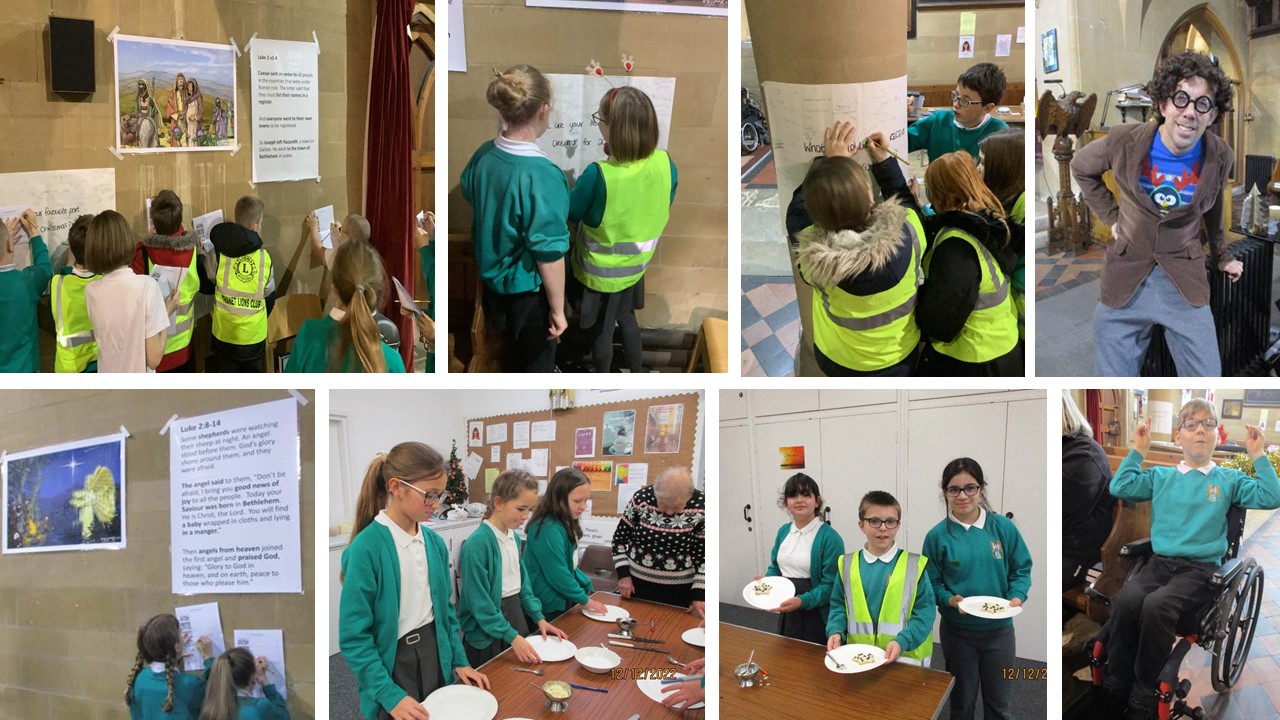 RE Displays 2022
The pupils at Garlinge Primary School & Nursery made some fantastic displays, linking their artwork to what they were learning about in RE, or focusing on one of the topics from the Spirted Arts completion. Each class had a winning submission, and that pupil was awarded with a small prize. The overall favourites were entered into the Spirited Arts competition, which I have also included within this application.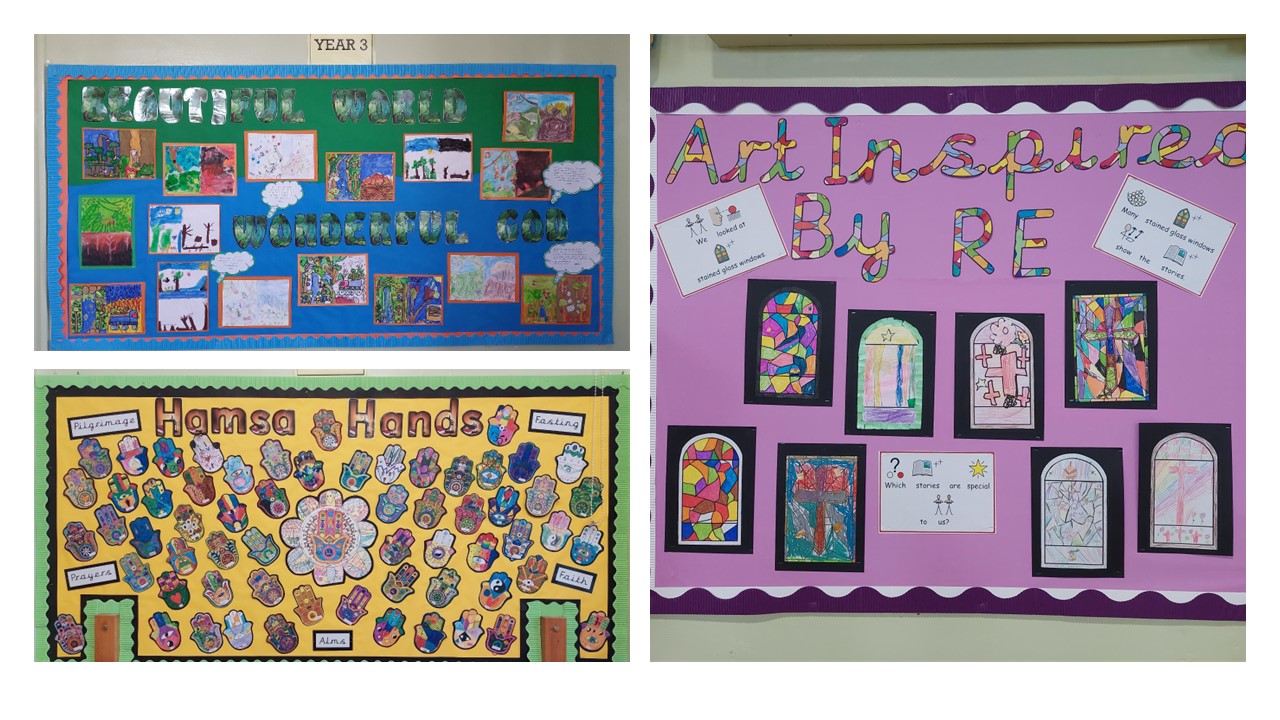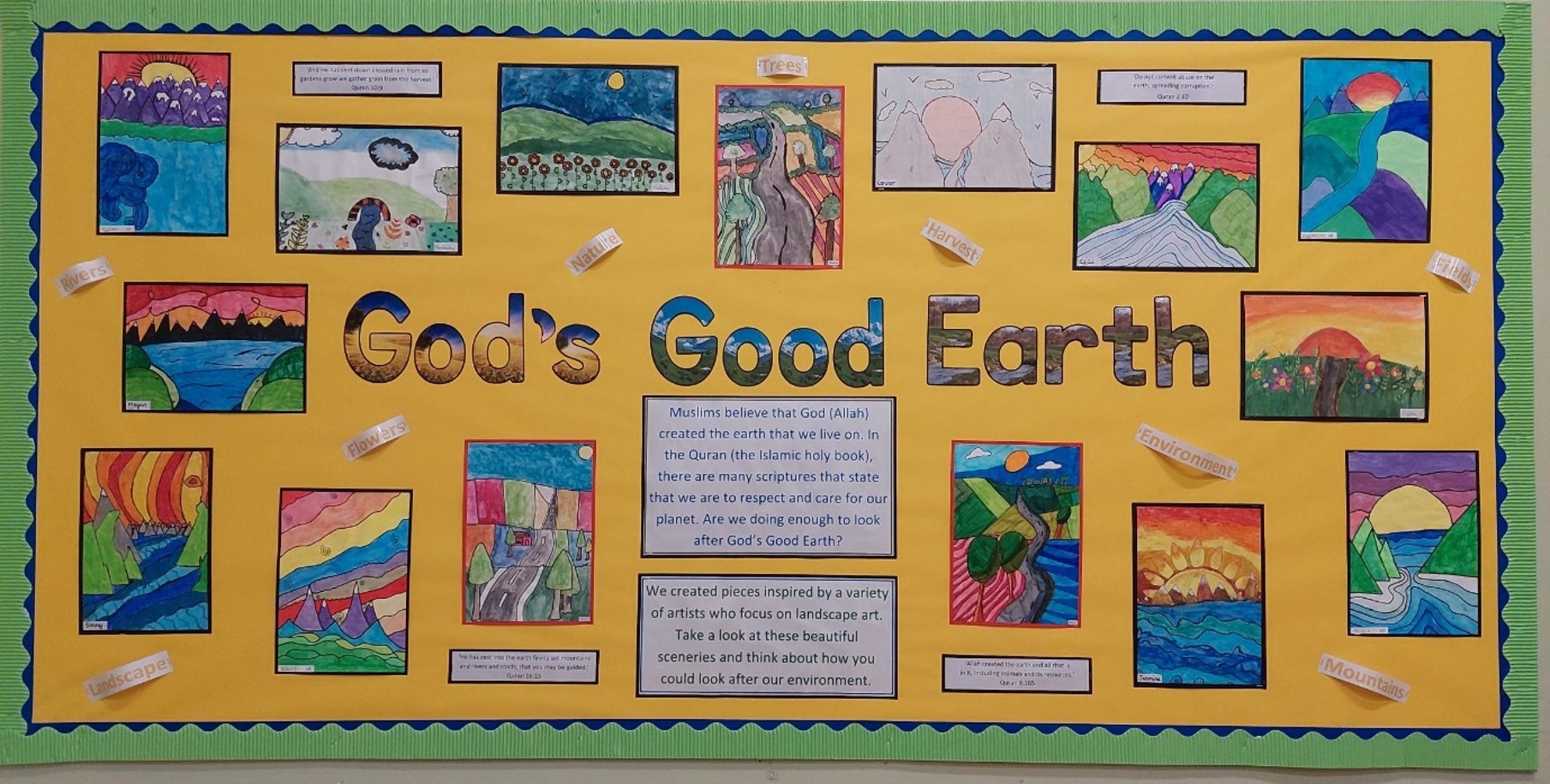 Christingle 2021
Year 3 had the opportunity to take part in a Christingle service. Part of this involved creating a Christingle, using sweets, ribbons and oranges! They also worked in their books to think about what each part represented.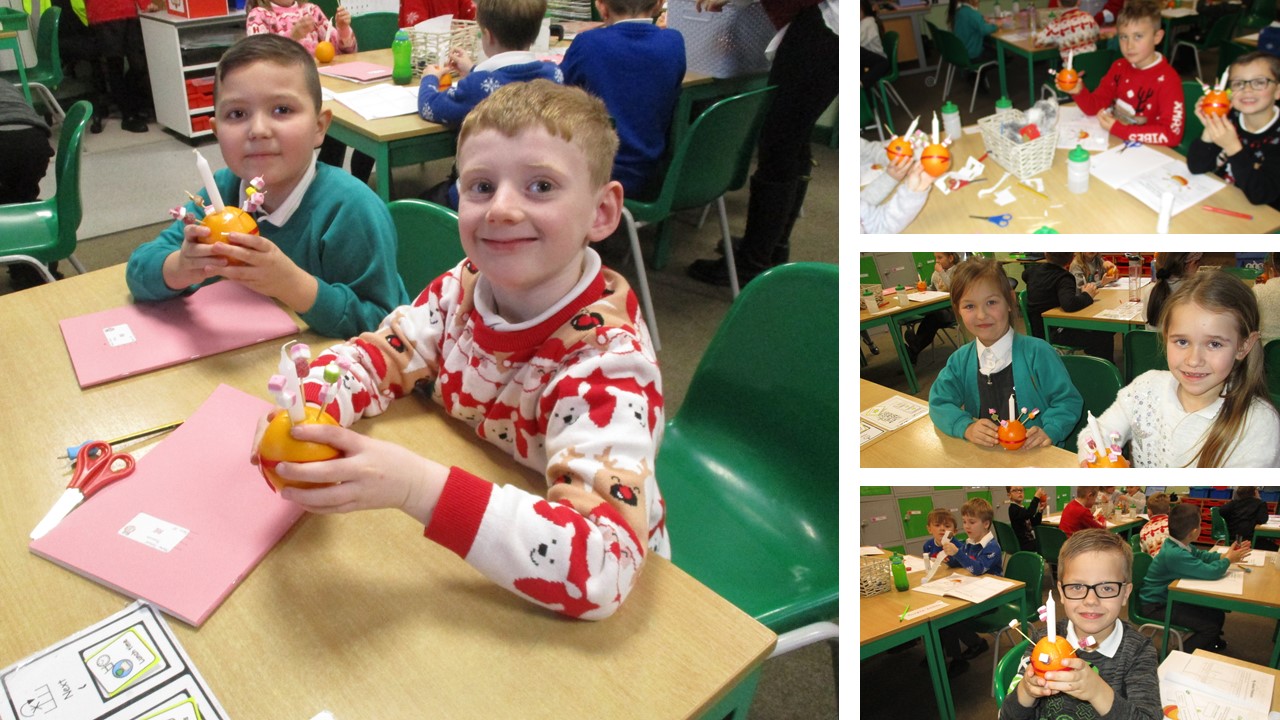 Christmas Unwrapped 2021
Year 6 walked to St James Church, Westgate to learn more about the Christmas Story and bust some of the myths about the nativity. Did you know that a donkey is never mentioned in the bible when referring to Mary and Joseph travelling to Bethlehem!?
The children took part in biscuit decorating then listened to Maggie, who works as part of ACTS – a group who speaks to children across Thanet about Christianity.