School Meals
Packed Lunches
If you wish to provide a packed lunch for your child, please click on the packed lunches link that provides advice and suggestions for a healthy lunch.
School Meals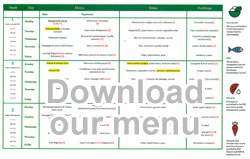 Principals Catering are the School's catering provider for our pupil meals. They provide healthy menus with at least 2 options daily and are fully compliant with the School Food Standards. All payments need to be made in advance, no later than Monday, at the beginning of the week.
A school dinner costs £2.20 per day (£11.00 per week)
You can pay by cash, cheque (payable to Principals Catering) or online. Please place your payment in a sealed envelope clearly marked with your child's name, class and the words "school dinner" (sorry, but the school office cannot give change).
If you only want a school dinner for one or two days please write which days you have paid for, payment for these meals MUST be made at the beginning of the week. We can no longer accept "last minute" or "on the day" meal requests and late monies will be returned and you will be required to provide a packed lunch for your child.
If you would like to change the type of meal your child has, i.e. from school dinner to packed lunch, or vice versa, please provide one week's notice in writing to the school office.
You may be eligible for a free school meal, if so, please complete the Free School Meals Form found on the KCC website.
Even if you are unsure if you are eligible, please complete this form and you will be notified instantly through the application process. If you need assistance, have any queries or require a paper copy of the form, please do not hesitate to contact the school office.
It is school procedure to contact parents by text, telephone and/or in writing where payment for school dinners has not been received.
For more details about healthy food options, please view our Health Eating Policy.